KECM Electrolytic drilling
Always a step ahead!
At the beginning there is an idea, and innovation is the conversion of an idea into a product.
Kohler ECM-Technik has developed a new process which creates machining results at difficult to access places within a component. For example, we can drill within an injection nozzle the link between the fuel inlet and the main chamber. This is important for injection nozzles of common rail engines.
The new process reduces the manufacturing time by half, and increases the quality of the nozzle. Injection nozzles which have been manufactured utilising ECM electrolytic drilling are more stable structurally under high pressure, as the molecular structure of the metal is not damaged.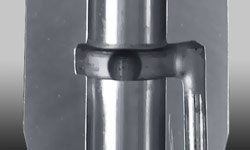 ECM electrolytic drilling can be used successfully during the manufacture of hydraulic pumps, valve blocks, fuel injection pumps, and others.
Conventional manufacture:
cut chamber, deburr, machine
drill from the outside (disadvantage – nozzle is weakened structurally)
insert plug (disadvantage – additional processes, requires specific plug
which must fit the drilled hole exactly)
edges between drilled hole and chamber must be deburred
These are at least 4 manufacturing processes which cost time and money, and weaken the structure and integrity of the component.
ECM manufacturing method:
Customers who use the ECM electrolytic drilling method can save most of the above processes, and achieve their aim with one simple process.